Filing the Statement of Premium Taxes to the DOI is pretty straightforward. Please carefully read the instructions below before you reach out to the SLA of Idaho, should you have additional questions.
How Do I Submit a Report to the DOI?
To be clear, you do NOT file this report and the corresponding SL Taxes within the InsCIpher Broker Portal. This report would need to be submitted through the TriTech portal, even if you have written 0 surplus lines transactions in the state of Idaho.
Once in the TriTech portal, and you have verified you are not a robot, select:
State: Idaho
Year: Select Reporting Year
Company Type: Other
Return: SL Brokers Annual Premium Tax
The SLA of Idaho has provided written instructions on how to file your Statement of Premium Taxes to the DOI. Please download this PDF and carefully follow this process.
---
How Do I Determine What Amounts Should Be Reported to the DOI?
Getting your annual Taxable Premium totals is simple and can be done using Using the InsCipher Broker Dashboard:
On the InsCipher Dashboard under the "Filing Summary" section, select Idaho > The appropriate Licensee > User the "Date Accepted" criteria > Select the appropriate tax year > and then click the UPDATE SUMMARY button. For example: If you are doing your 2022 annual report that is due on Mar 1, 2023, select "2022" as the tax year.
Write down the Taxable Premium, which is the summation of all Premium + Broker Fees + Carrier Fees reported to the Idaho DOI.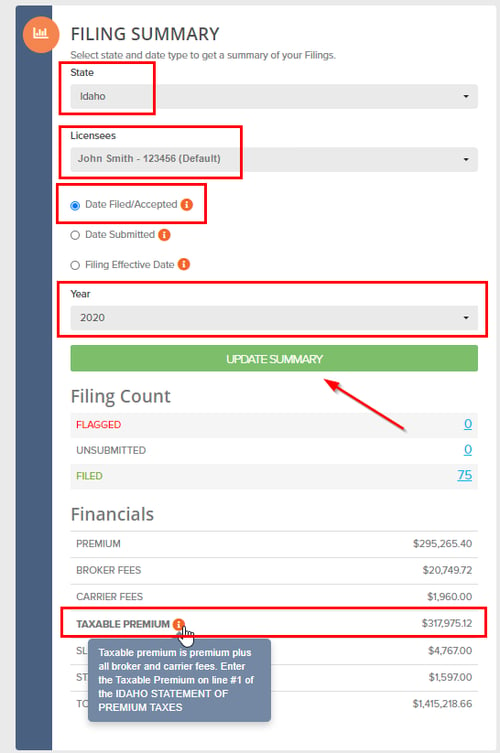 If you have questions about details of the filings submitted, you can click on the quick link number under the "Filed" section to see which transactions make up the totals in the summary. Doing so will take you to a filtered list on the Filings page for transactions filed for the year selected. Should you want a report, click on the DOWNLOAD CSV button at the bottom of the page: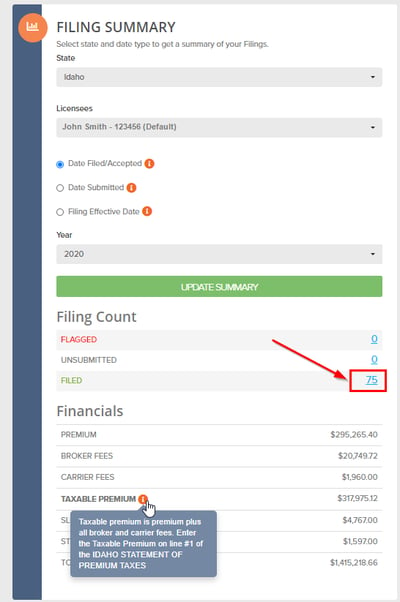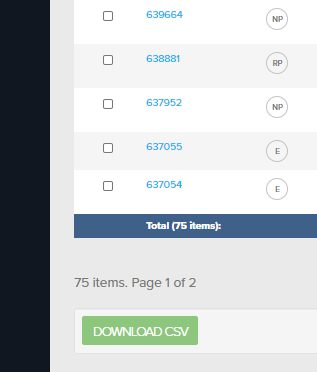 Related articles
Revision History:
| | |
| --- | --- |
| Date | Edit |
| 3/7/23 | Year: Select Reporting Year |
| 12/7/22 | Reviewed for accuracy |